FROM THE BOOK JACKET: An unforgettable year in the life of a visionary high school science teacher and his award-winning students, as they try to get into college, land a date for the prom . . . and possibly change the world

Andy Bramante left his successful career as a corporate scientist to teach public high school—and now helms one of the most remarkable classrooms in America. Bramantes unconventional class at Connecticuts prestigious yet diverse Greenwich High School has no curriculum, tests, textbooks, or lectures, and is equal parts elite research lab, student counseling office, and teenage hangout spot. United by a passion to learn, Mr. B.s band of whiz kids set out every year to conquer the brutally competitive science fair circuit. They have won the top prize at the Google Science Fair, made discoveries that eluded scientists three times their age, and been invited to the Nobel Prize ceremony in Stockholm.

A former Emmy-winning producer for CBS News, Heather Won Tesoriero embeds in this dynamic class to bring Andy and his gifted, all-too-human kids to life—including William, a prodigy so driven that hes trying to invent diagnostics for artery blockage and Alzheimers (but cant quite figure out how to order a bagel); Ethan, who essentially outgrows high school in his junior year and founds his own company to commercialize a discovery he made in the class; Sophia, a Lyme disease patient whose ambitious work is dedicated to curing her own debilitating ailment; Romano, a football player who hangs up his helmet to pursue his secret science expertise and develop a smart liquid bandage; and Olivia, whose invention of a fast test for Ebola brought her science fair fame and an appearance on The Late Show with Stephen Colbert.


We experience the thrill of discovery, the heartbreak of failed endeavors, and perhaps the ultimate high: a yes from Harvard. Moving, funny, and utterly engrossing,
The Class
is a superb account of hard work and high spirits, a stirring tribute to how essential science is in our schools and our lives, and a heartfelt testament to the power of a great teacher to help kids realize their unlimited potential.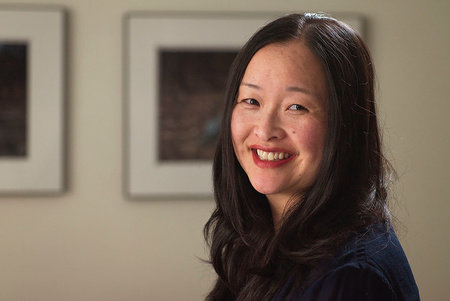 AUTHOR INFO:
Heather Won Tesoriero
was an Emmy-winning producer for CBS News and has been a reporter at
The Wall Street Journal
,
Time
, and
Newsweek
. A Korean adoptee who was discovered on a doorstep when she was just a few days old, she grew up on the eastern end of Long Island and now lives in New York City with her husband and two young daughters.